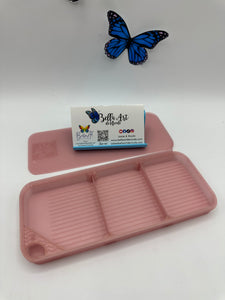 *PATENT PENDING on our tray design* This listing is for a 2.1 (Internal Spout) Three Divider tray. 
The lids slide into place. They are designed to stack and save space. Multiple trays can be stacked on top of each other. Three of our small stackable trays will stack on top of it. 
There is an option to choose tray with (limited quantities) or without name. The name will be embossed (stick out a little bit) instead of being debossed. Please put the name in the notes at checkout after you have chosen the tray with name. 
Colors may vary from the picture as your lighting may be different and there are sometimes different dye lots. Aside from the normal high walls and sliding lid, it has the classic internal pour spout, 2 removable dividers, and the new dimple clasp found on our other 2.1 drays. This tray can hold 3 colors at once with removable dividers for easy emptying of one color at a time. The lid goes into the grooves on either side to help with pouring. Make sure the dividers are all the way down to prevent drills from mixing and then the lid will slide over the top.  

3 Divider tray Dimensions:
Tray dimensions:7.5x3.125x.75 in
Tray depth: .75 in


We do limited release of colors. So check back for more color options. Colors may vary slightly from the picture as your lighting may be different. 
Everything is made to order and may take 1 1/2 - 2 1/2 business weeks to ship based on demand, but we always strive to shorten that if possible. Quality is our #1 priority.
With 3D printing there might be some imperfections, but it does not interfere with functionality. If you have any issues with functionality due to an imperfections, please reach out to us. An example of imperfection would be an extra piece of filament printed into the lid that does not affect functionality at all. 
If you use Tic Tac Containers, it's not impossible to pour drills back in using this tray it just takes a little more patience. You can purchase this funnel and it'll help https://www.bellaartdenicole.com/collections/diamond-painting-tools-and-aids/products/diamond-painting-funnel.