Check Out our Diamond Paintings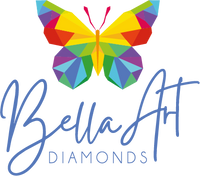 High Quality 3D Printed Tools
Enhance your Diamond Painting experience with our custom 3D printed products. We put our love of Diamond Painting into all of our products. We value quality over quantity and always ship things out ASAP. Everything is made to order. If you don't see something listed or have a question before purchasing, please send us a message. We may not have as much listed, but it is so as a small business we have the time to make everything in a timely manner and send quality items. Currently 1 1/2 weeks - 2 1/2 weeks after your order is placed.
We re-list items often and try to post to our social media accounts when we do.
If you ever have any questions, comments, or concerns all you have to do is reach out 😁 Thank you for supporting our small business! 🦋 💎 🖼
Nicole & Jamie
Check the latest News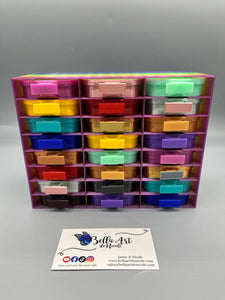 Tray Holders
We have multiple options for organizing/stacking your existing trays and our custom made trays
Check them out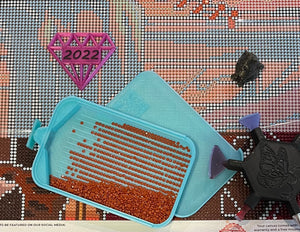 Custom Designed Stackable Trays
Sizes ideal for both color blocking and confetti. Our trays are stackable with high walls to keep your drills where they belong. They even have sliding lids! The lines are sized and spaced for optimal diamond alignment and easy pour out when you are done. They have external stopper and pour spout with ramp on the inside, so if you lose your stopper you can still use your tray.
Check Them Out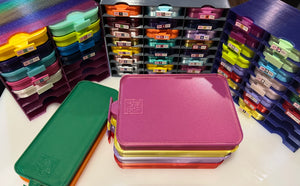 Unique limited quantity colors
Check back often and follow us on social media to catch limited release colors.
Follow Us
I LOVE my towers! I hate it having to open my drill bottles constantly. These towers make diamond painting so much easier. Plus if you miss one color spot the drills are right there. No opening a bottle for one drill. All of the items sold in this shop are made with quality in mind and shipping is quick. If you are a diamond painter, these items are a game changer.

Sandi B.
Love it! I am so amazed at how such a tiny thing can save me so much annoyance. Protects my power button so there are no more accidental power offs. Thanks so much!

Christina
Love the limited release colors! Fast. Great product. Not a factory duplicate. You will not be disappointed! Drills slide around great. tracks are perfect distance to flip them around. High edges allow me to shake them without making a mess 10/10!

Cory B.