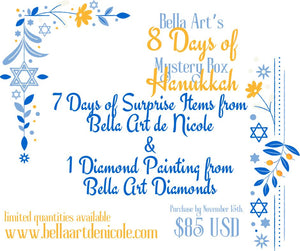 We are excited to offer our 1st Ever Bella Art's 8 Days of Hannukah Mystery Box! These won't necessarily be holiday themed (we will include Hannukah Colors), they will be gifts to open for each day of Hannkuah. There will be 7 items from Bella Art de Nicole that we currently offer on the website and 1 Diamond Painting from Bella Art Diamonds. 

Diamond Painting Kits that would be included (you can add a note at checkout with your top 3 preferences): 
Cozy Mug in Round or Square
Laze in Round or Square
Merchant in Round or Square
Ohana in Round or Square
Poseidon in Round
Season's Flowers Spring in Round or Square
Emotion Express in Round or Square
Rising Moon in Round or Square
Magic in a Bottle in Round or Square
Kitty in Round or Square
Happy Fall Square
Leo Teacup in Square
Pisces Teacup in Square
We will start sending out orders with these boxes after November 15th, so don't order other items with this box if you don't want to wait for them to ship.
Everything is made to order and may take 1 1/2 - 2 1/2 business weeks to ship based on demand, but we always strive to shorten that if possible. Quality is our #1 priority. With 3D printing there might be slight imperfections but does not interfere with functionality. If you have any issues reach out to us.