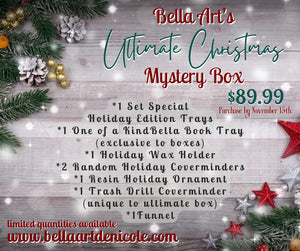 We are excited to offer our Bella Art's Ultimate Christmas Mystery Box! We will start sending out orders with these boxes after November 15th, so don't order other items with this box if you don't want to wait for them to ship.
This listing is for the Ultimate Mystery Box and will be available while supplies last. The box will represent Christmas. There is an EXCLUSIVE one of a kind Bella Book Tray that Jamie designed just for these mystery boxes and they will not be offered separately. The trash drill coverminder is different from the Ultimate box. All of the other items we will offer separately at some point. 
This is what is included in the Essentials box:
1 Set Special Holiday Edition Trays
1 One of a Kind Bella Book Tray (exclusive to these boxes)
1 Holiday Wax Holder
2 Random Holiday Coverminders
1 Resin Holiday Ornament
1 Trash Drill Coverminder 
1 Funnel
Everything is made to order and may take 1 1/2 - 2 1/2 business weeks to ship based on demand, but we always strive to shorten that if possible. Quality is our #1 priority. With 3D printing there might be slight imperfections but does not interfere with functionality. If you have any issues reach out to us.